---
I've missed Left Coast Crime for the past couple of years, so I'm especially happy to be back this year (the fact it's in Vancouver, one of the loveliest cities I've ever visited, was an added inducement to attend). Here's where to find me:
Thursday, March 28, 7:30pm-9:30pm: Noir at the Bar, Left Coast Crime Edition. I'm reading with a noir crew including Blake Crouch, Kellye Garrett, Rob Hart, Vicki Delany, Dietrich Kalteis, Robin Burcell, Thomas Pluck, Sam Wiebe, Lisa Brackmann, Frank Zafiro, SJ Rozan. Come to the Regency C/D room at the Hyatt Regency Hotel. All welcome! (You don't need to be registered for LCC to attend.) PS This will be my first public reading from my next book, ONE SMALL SACRIFICE.
Friday, March 29, 1:30pm-2:15pm: I'll be on the "Writing Villains" panel with Meg Gardiner, David Housewright, Kim Moritsugu, and moderator Bharti Kirchner (Regency B). How did I end up on a panel about villains. Oh… riiiiiight…
---
Sometimes lightning strikes with certain projects, and I feel like it really did with Murder-A-Go-Go's. The collection is the brainchild of my friend Holly West, a talented writer and editor who not only came up with the concept, herded a bunch of crazy cats into write stories, and got Down & Out Books to back it… she also got Go-Go's co-founder Jane Wiedlin to write the introduction to this collection (!).
Here's an excerpt from my story, "Unforgiven":
The day I found out my husband was dead, it broke my heart. But I collected enough of myself to drive into town and corner the sheriff for answers. The jail was around the corner from Main Street, a tidy rectangle of a building with a pair of Art Deco angels guarding the entrance. Back in the day, my little hometown had big dreams for itself; like my own, those had been crushed to dust.

"Cassie! I was just heading over to see you," the sheriff said when I walked in. That was an obvious lie. He was at his desk, with a spread from In-N-Out Burger laid in front of him.

I didn't waste any time. "I'm here about Ray."

The sheriff nodded and wiped his face with a napkin. He was red-faced and bulky, with a nose that had been broken a few times. It was hard to say if his face flushed, because he was always overheated. "You have no idea how sorry I am," he said.

"I heard he died in jail."

"Who told you that?"

"My father," I lied.

That earned a stiff little nod. "Okay. Yeah. We came back and found him in his cell. I feel terrible, Cassie. I wish I'd been able to stop him."

"Stop him?" I repeated, my voice flat.

"From killing himself," Steve explained. "You know… you know Ray killed himself, right?"

"He would never do that."

"I know it's hard to believe, Cassie. Your husband's been having issues lately. Drinking a lot. Maybe it was PTSD. So many guys in the service come back like that. Ray did, what, two full tours in Iraq, didn't he?"

I nodded.

"So, who's to say what kind of demons he brought home with him," the sheriff went on. "You never really know, do you?"

"I want to see Ray's body."

"That's not a good idea. Look, maybe you should talk to your dad. He's handling all the arrangements."

"Why would my dad do that?"

"Well, you're away so much, Cassie. And I guess everyone knows you and Ray were living separate lives. You can't hide much in a little town like Constantine."

I swallowed my anger, aware I needed to stay calm. My father controlled everything in our tiny town, including the sheriff. If I was ever going to get to the truth about what had happened, it wouldn't be by blowing up.

"How did Ray die?"

"He cut his wrists open. It was bad."

Automatically, I glanced in the direction of the town's single jail cell. It was pristine and empty. The acrid aroma of bleach hung in the air.

"How on earth did Ray get a knife into his cell?" I asked.

"He used a piece of metal he broke off the cot," the sheriff said. "We got rid of that cot first thing, of course. Damned dangerous to have it around."

He looked down at his rapidly cooling burger and fries, and I wondered if some part of him felt bad about lying to me. He wasn't an evil man, from what I knew, just an obedient one.

"There's one thing I just don't understand in all of this," I said. "Why did you arrest Ray in the first place?"

The sheriff shifted his bulk in his seat, and the chair squeaked under him. "He was drunk and disorderly. Screaming his head off. I only brought him in to calm him down. I figured he'd sleep it off."

"Are you saying it had nothing to do with Ray going over to my father's house?"

"How did you…" For the first time, the sheriff's weak chin quivered. "I mean, like I said, Ray was going bonkers, yelling and stuff. Your dad called me because he was worried about him. He told you about that?"

"No, he didn't," I answered. "But that doesn't matter. Like you said, you can't hide much in this little town."
Murder-A-Go-Go's includes stories by Lori Rader-Day, Susanna Calkins, SW Lauden, Jen Conley, Greg Herren, RD Sullivan, Steve Weddle, Lisa Alber, Eric Beetner, Craig Faustus Buck, Nadine Nettmann, Thomas Pluck, Diane Vallere, Bryon Quertermous, Patricia Abbott, Sarah M. Chen, Travis Richardson, Renee Asher Pickup, Josh Stallings, Dharma Kelleher, Stephen Buehler, Wendall Thomas, Jessica Ellis, and Lisa Brackmann.
Want another reason to love this collection? The proceeds go to Planned Parenthood. Get this book now!
---
My new book has its first trade review! Kirkus Reviews has weighed in, calling ONE SMALL SACRIFICE "A thoughtfully plotted and skillfully characterized procedural mystery… it's easy to get drawn deeply into the various motives and secrets of each character because it's so perfectly human for all of us to keep things hidden, even from those we love."
Want to read the full review? It's online now.
Pre-order the book from Amazon, Indiebound, Barnes & Noble, Chapters/Indigo, or Target.
---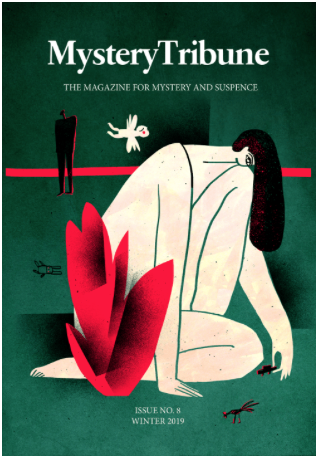 I've been deep in my writing cave, working on a new book, so I've neglected to share some news I'm thrilled about: my story "Honor Thy Father" is in the Winter 2019 edition of Mystery Tribune. If you haven't had the pleasure of discovering Mystery Tribune, do yourself a favor: it's a gorgeous magazine—available in print and online—filled with short fiction, interviews, reviews, art, and photography.
Here's how "Honor Thy Father" opens:
"You want a Coke or something?" the cop asked.

"No, thanks." Jacob looked down. They were seated across from each other at a blond-wood table that bore deep scars from years of abuse. There was a sticker with a shiny palm tree affixed to one sturdy leg, likely covering up some particularly offensive graffiti. Jacob wondered if it was the same table from the last time he'd been in that windowless interview room. It bothered him that he couldn't remember, even though it had been five years ago. Another lifetime, almost.

"Because you're going to be here for a while," the cop added. "You should know that, in case nobody warned you. They got a lot of questions for you."

Jacob eyed him warily. He was so nervous, the cop's name had slipped out of his mind as soon as he'd heard it, like a drop of water through a sieve. That bothered him, because details were important. He had to focus, so he studied the man in front of him. The cop was almost as broad as he was tall, with a furry fringe of graying hair, sunburned red skin, and a walrus mustache. Jacob had no doubt the man was tapped to play Santa Claus year after year at Christmas.

"We also got a vending machine with a lotta stuff, like chips, gummy bears, Oreos," the cop went on. "We get a lotta kids in here, you know, so we try to make sure we have that stuff around. Because what kid doesn't like Oreos?"

He gave Jacob a broad grin, like he thought the two of them were bonding over a shared love of cookies. But Jacob grimaced at being called a kid. He was only fifteen, but he was already almost six feet tall, with a deepening voice that people were starting to mistake for his father's over the phone.

"Anyhow," the cop continued, "you should know we're all appreciative that you're here today."

"I didn't have a choice," Jacob said. "You brought me in."

"Sure, but you're going to do the right thing now, aren't you? Because you're a good kid, I can see that. You don't want anybody walking away free from a murder."

Jacob realized the cop wasn't as dumb as the goofy chatterbox he played. His chin sank towards his chest and he took a shuddering breath. Suddenly there was a beefy hand, deep red as a lobster claw, on his shoulder.

"We don't get to choose our parents, kid," the cop said. "Nobody does. We're not responsible for what they do."
Here's hoping you'll want to know where "Honor Thy Father" goes from there. Print editions of Mystery Tribune are available from Artbook @ MoMA PS1 and The Mysterious Bookshop, and directly from Mystery Tribune's own site, where there's also a digital edition.
---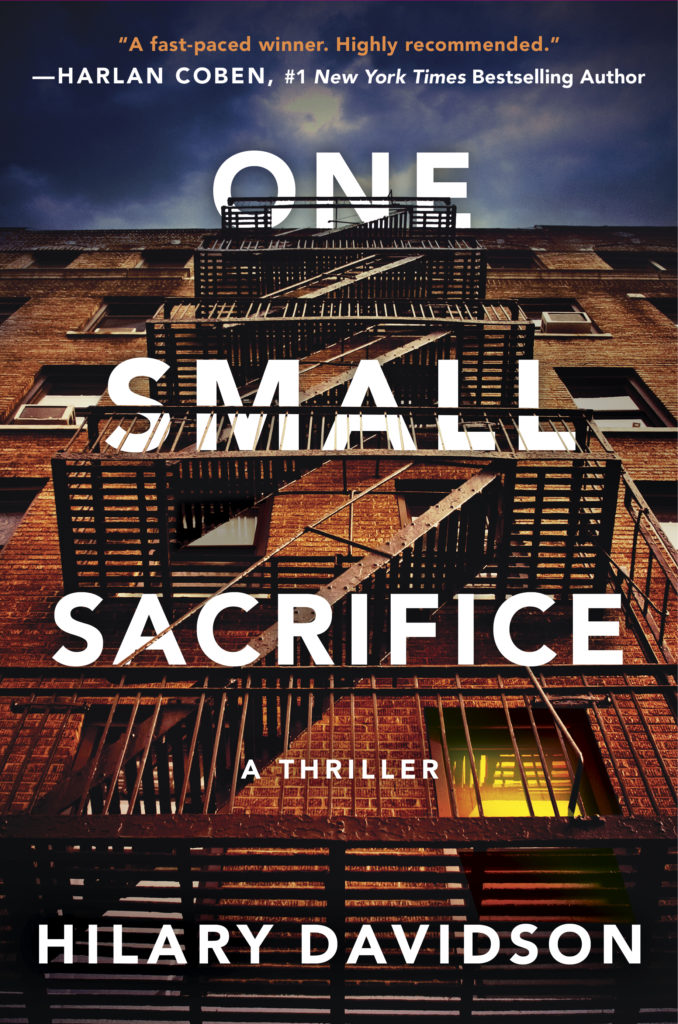 Some people are afraid of snakes. Some fear spiders. For me, there's nothing more terrifying than asking writers I admire to read an advance copy of my book, with an eye to blurbing it it they like it. When ONE SMALL SACRIFICE was in galleys, I decided to swallow that fear and reach out to some of my writing heroes. I assumed that most would be too busy, but to my amazement, all nine superstars who agreed to read the book wrote back with praise. Here's what they had to say:
"One Small Sacrifice is a terrific thriller with a big heart. A smart, compelling examination of guilt, blame, and responsibility that will keep you turning the pages. Hilary Davidson is a rising star of suspense." —Jeff Abbott, New York Times bestselling author of The Three Beths

"Hilary Davidson's One Small Sacrifice is both heart-pounding procedural and a rich, mesmerizing tale of the weight of trauma and the elusive nature of memory. Twisty, absorbing and deeply humane, it's a thriller you won't want to miss." —Megan Abbott, New York Times bestselling author of Give Me Your Hand

"One Small Sacrifice hooked me hard. Hilary Davidson has written a riveting and beautifully layered thriller that satisfies on every level. The characters surprise, the plot twists, and the pages turn themselves." —Lou Berney, Edgar Award–winning author of November Road

"Davidson has crafted a tightly woven mystery. Each thread of the intricate plot draws you toward one surprising revelation after another." —Sandra Brown, #1 New York Times bestselling author of Tailspin

"Davidson's latest novel is her best work yet. One Small Sacrifice is a fast-paced winner. Highly recommended." —Harlan Coben, #1 New York Times bestselling author of Run Away

"I tore through this book! Hilary Davidson is at the top of her game with this masterful and twisty new novel that's jam-packed with suspense. Filled with wonderfully diverse characters, breakneck pacing, and surprises at every turn, this modern mystery will thrill even the most old-school crime fiction lovers. This book satisfied me on so many levels." —Jennifer Hillier, author of Jar of Hearts and Creep

"Hilary Davidson is one of the best crime writers on the planet. This novel is a dazzling work by a master operating at the height of her abilities. Dark, twisty, and psychologically complex, One Small Sacrifice kept me guessing and gasping until the final page. I couldn't put it down, even though I didn't want it to end." —Chris Holm, Anthony Award-winning author of The Killing Kind

"A taut, compelling narrative with a nerve-tingling climax. Davidson turns clichés of the contemporary novel on their heads to create a wholly believable cast of characters. I hope we'll see more of detective Sheryn Sterling." —Sara Paretsky, New York Times bestselling author of Shell Game

"Packed with secrets, lies and suprises, ONE SMALL SACRIFICE kept me guessing to the very end. A gritty kaleidoscope of a thriller." —Riley Sager, New York Times bestselling author of The Last Time I Lied

"Hilary Davidson's ONE SMALL SACRIFICE has it all — a can't-miss protagonist in NYPD detective Sheryn Sterling, mysterious murders caught up in a web of lies, and an unforgettable, pulsating New York backdrop. Unsettling, layered and impossible to ignore, ONE SMALL SACRIFICE shows us Davidson at the top of her game — proving once again that she's one of the most unique, talented voices in modern crime fiction." —Alex Segura, author of Dangerous Ends and Blackout
I can't tell you how grateful I am — it's like winning the lottery, only better. ONE SMALL SACRIFICE will be out on June 1, 2019, from Thomas & Mercer. Pre-order from Amazon and Indiebound.
---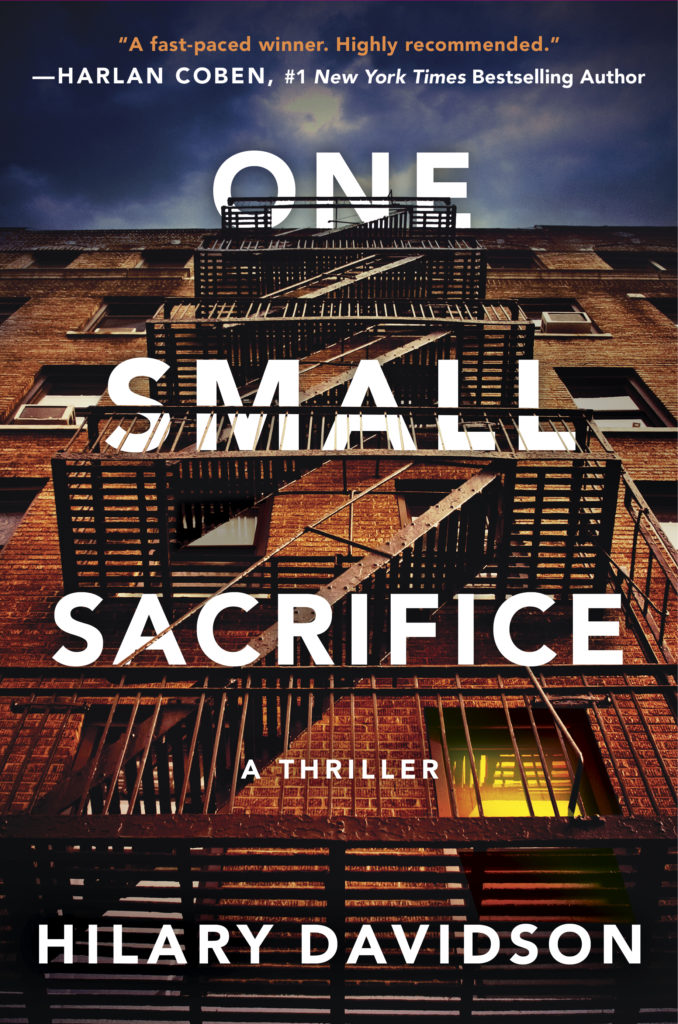 Words fail me, except to say that the designer, Christopher Lin, is a genius. ONE SMALL SACRIFICE will be published by Thomas & Mercer in May 2019.
Pre-order links: Amazon and Indiebound.
---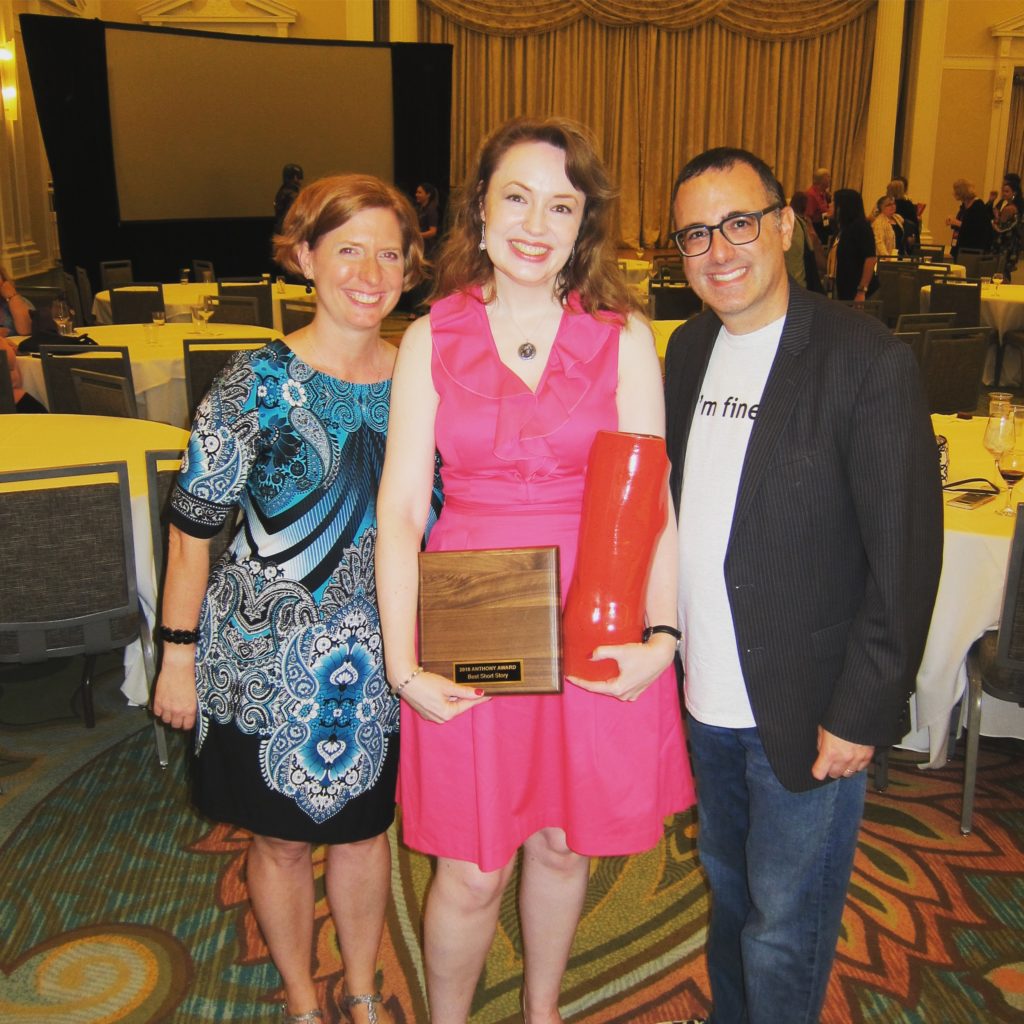 Bouchercon was a blast, as it always is (seriously, it would be a shocker if it weren't). It was filled with amazing moments, but my biggest surprise of the weekend was that I won the Anthony Award for Best Short Story for "My Side of the Matter" (!!!) I'm pictured above with Kate and Dan Malmon, editors of the exceptional KILLING MALMON anthology—get it now if you haven't already!—and my very beautiful (also very heavy) award. It was such an honor to win, especially because all of the finalists is my category were brilliant. Thank you!
---
It's the end of August, and Bouchercon is just around the corner. For me, the conference is always a reunion with my tribe. This year's con is going to be a little hectic, because I don't land until Thursday afternoon and I leave Sunday morning. That said, I've got a lot packed into the time I'm there:
Thursday, September 6, 8:30pm: Noir at the Bar: Bouchercon Edition! This is going to be a highlight of the entire conference. Take a look at the poster above, designed by Alex Segura, who's co-hosting with Eric Beetner. That's one helluva lineup. We'll be at the Vinoy bar, which better be stadium-sized.
Friday, September 7, 10:15-10:30am and 11am-11:30am: Thomas & Mercer hospitality suite. Stop by to say hi, grab treats, and pick up some swag. (The odd timing is thanks to another commitment I have, so I'll be popping in and out of the suite.)
Friday, September 7, 12pm-12:45pm: "A Nooner — The Sex Panel." Christa Faust, Heather Graham, Greg Herren, Catriona McPherson, and I talk sex with moderator Helen Smith. If we don't make you blush, nothing will.
Friday, September 7, 1pm-1:45pm: "Anthony Nominated Short Stories." Yes, immediately after the Sex Panel, I'm on another panel, this time with my fellow nominees for Best Short Story: Susanna Calkins, Barb Goffman, Debra Goldstein, and Art Taylor (Art's wife, Tara Laskowski, will moderate).
Saturday, September 8, 7pm: Anthony Awards. I'm up for Best Short Story for "My Side of the Matter" from the KILLING MALMON anthology. Read it for free!
I am incredibly sad that I'm going to miss the signing event for FLORIDA HAPPENS, the Bouchercon Anthology. It's on Thursday starting at 1pm, and my plane lands about half an hour later. Bad timing on my part! Anyone who does want me to sign the book, please stop by one of my other events. I'd love to see you!
---
When I wrote "My Side of the Matter" for the KILLING MALMON anthology, I never dreamed it would end up as a finalist for an Anthony Award. It was an unusually tricky story to bring to life, for reasons that I talk about in the interviews below. I'm so grateful to Paula Benson and Debra H. Goldstein for taking this year's Best Short Story finalists on a mini blog tour. Check out these pieces:
The Stiletto Gang: "Meet the 2018 Anthony Short Story Author Nominees!"
Writers Who Kill: "An Interview With the 2018 Anthony Nominated Short Story Authors"
Debra H. Goldstein: "2018 Anthony Awards — Short Stories"
Also you can read all of the finalists' stories online. Here's a direct link to "My Side of the Matter," courtesy of Down & Out Books:
Read "My Side of the Matter" for free
At Bouchercon, the Best Short Story nominees have a panel together on Friday, September 7th, at 1pm. I'll be posting my complete (crazy) conference schedule in the next couple of days. Hope to see you in St. Pete's!
---