One Week to Go!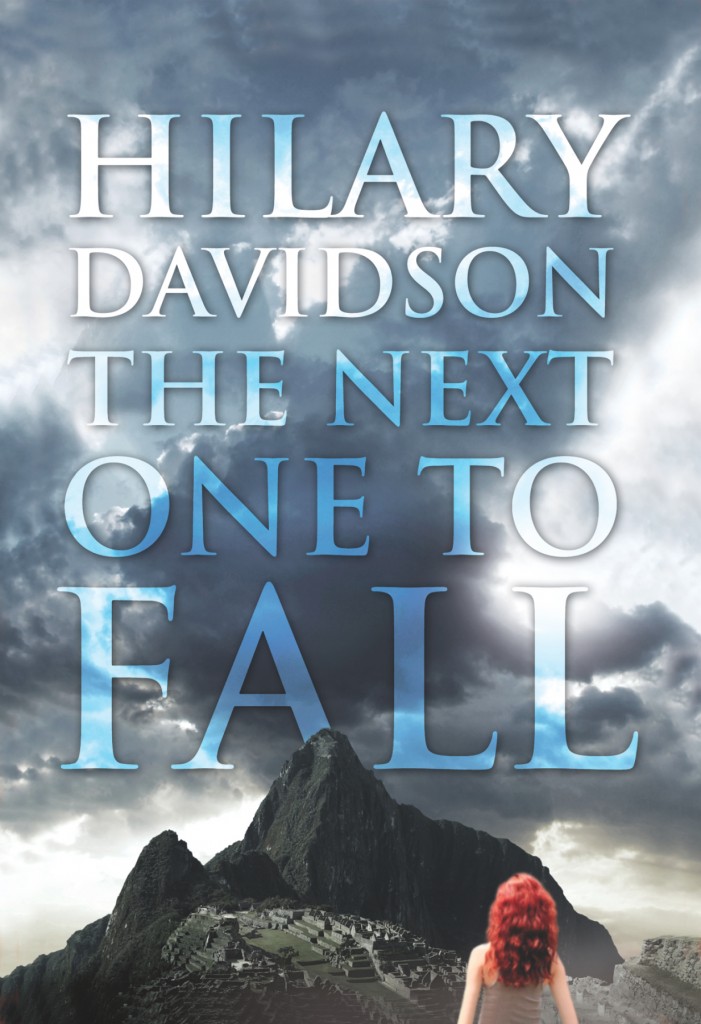 My second novel, THE NEXT ONE TO FALL, will be published by Forge on Tuesday, February 14th — Valentine's Day. It's an ironic release date, since the book features a wealthy man whose wives and other female companions have a strange habit of going missing… or turning up dead. Romantic, the book is not. But it does bring back Lily Moore, the main character from THE DAMAGE DONE, and her best friend, Jesse Robb, and it sets them loose in Peru. The book has been getting some phenomenal reviews:
Publishers Weekly: "Davidson's exciting follow-up to her debut, 2010's The Damage Done, takes travel journalist Lily Moore, who's still reeling from her sister's death in The Damage Done, to Peru… The rich history and geography of Peru add depth to an engrossing mystery that constantly keeps the reader guessing."

Library Journal: "Davidson's follow-up to her Anthony Award-winning debut (The Damage Done) will leave you breathless, and not just because of the Andes' high altitude. Her determined young travel writer propels the exciting plot like a rocket. Think Jamie Freveletti's thrillers (Running From the Devil) for no-holds-barred action and the single-mindedness of the protagonist."

Kirkus Reviews: "An attempt to overcome grief with a trip to fascinating Machu Picchu leads to even more wild intrigue… Lily's feelings for her sister ring painfully true, and Davidson's rendering of Machu Picchu and Cusco would merit a pisco sour toast even from the great Jan Morris."

The Maine Suspect: "The Next One to Fall is the sequel to author Hilary Davidson's stellar debut, The Damage Done, and it's quite simply a fantastic read.  Equal parts action-adventure thriller and classic paranoia tale (with a touch of Peruvian travelogue thrown in for good measure), Davidson's latest is an intelligent, atmospheric, heart-stopping tour-de-force, guaranteed to keep you on the edge of your seat.  The prose is graceful, the pace is electric, and the mystery will keep you guessing until the very end." — Katrina Niidas Holm

Mystery Scene: "I have never been to Peru nor have I tasted coca tea. But I had just read Anthony Award winner Hilary Davidson's The Next One to Fall, which is so wonderfully steeped in the scenery of Peru that I could picture the country as if I had been there. Davidson shows the reader Peru's geography, its politics, its violence and its people in ways that most travel articles do not." — Oline Cogdill

Jen's Book Thoughts: "Lily and Jesse suffered hardships and still have open wounds that can be easily re-opened. But their core strengths still guide them day to day. Jesse still exudes wit and charm; Lily is still thoughtful and introspective. And the relationship between the two is still shaping up to be one of the greatest in crime fiction." — Jen Forbus
I'm also honored to say that BookPeople in Austin, Texas, has made THE NEXT ONE TO FALL the store's Mystery Pick of the Month for February:
"Davidson is a master at character. She skillfully ties the plot to having Lily confront what she's running from. It's exciting to watch her find her inner strength in her darkest moments. She understands that pace is more than moving through plot points and twists as fast as you can. She allows her characters to breath, such as in a wonderful passage where Jesse discusses his homosexuality and Christian faith. It's Davidson's play between light and dark that make her books so fresh and prove that she is an author to keep watching and reading." — Scott Montgomery, Crime Fiction Coordinator, MysteryPeople
Canada's Chatelaine magazine has also selected THE NEXT ONE TO FALL as one of "February's Best Books," putting it in some amazing company.
I'm overwhelmed, and incredibly grateful for all of the support. There are some things I should mention.
To everyone who has pre-ordered THE NEXT ONE TO FALL: You are wonderful and I want to hug each and every one of you.
To everyone thinking about ordering the book: the pre-order contest is open through Monday, February 13th! Here's your chance to win a character name, collection of books, or a llama. You're also helping to support Heifer International.
To everyone in New York: you're invited to my launch party at The Mysterious Bookshop! It's being held on Wednesday, February 15th so that the romantics in the crowd can celebrate Valentine's Day. The party starts at 6:30pm and everyone is welcome.
To everyone in Houston, Austin, Scottsdale, and Glendale (AZ): I'm coming to your town SOON. Please come see me while I'm visiting! The schedule:
Friday, Feb. 17, 6:30pm: Murder by the Book, Houston
Saturday, Feb. 18, 4pm: BookPeople, Austin
Tuesday, Feb. 21, 7pm: The Poisoned Pen, Scottsdale
Wednesday, Feb. 22, 2pm: The Velma Teague Library, Glendale, AZ
The full tour schedule is on my website. It includes Long Island (Book Revue, Feb. 28), Toronto (Ben McNally Books, Mar. 8), Denver (Tattered Cover, Mar. 23), Los Angeles (Noir at the Bar, Mar. 25), San Diego (Mysterious Galaxy, Mar. 26), Thousand Oaks (Mysteries to Die for, Mar. 28), and San Francisco (Book Passage, April 2). There are also some conferences on that schedule, and a couple of private events. I'm hoping to see a lot of friends while I'm on tour.
In other news, I have a newsletter. Sign up now!
If you don't already subscribe to Crimespree Magazine, now would be an excellent time to start. The awesome people who run it made me the cover story for the January/February 2012 issue, and Ruth Jordan and Jen Forbus interviewed me for the piece. I can't vouch for my answers, but their questions were brilliant.
I've got a lot of things coming up, including guest blogs, Q&As and other pieces. If you'd like to see what I'm up to or what people are saying about the book, check out the News & Reviews page on the blog. I'm thrilled beyond belief that I get to do what I do. Thanks again for all of the support. I hope to see you soon!