Death of a Bad Neighbour
Have you ever had an awful neighbor? I have, and they seem to be a universal scourge. That's why I immediately said yes when British author, editor, and podcaster Jack Calverley asked me to write a short story for an anthology he was putting together. That collection, Death of a Bad Neighbour: Revenge Is Criminal, is out now, with stories from Steve Hockensmith, Dave Zeltserman, Robert Lopresti, Marilyn Todd, and many other terrific writers.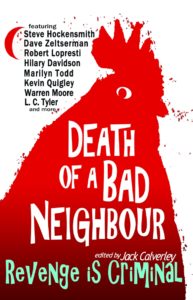 My own contribution is "King of the Castle." Here's an excerpt:
The snow came down hard that early December afternoon. At first it looked enchanted, with snowflakes swirling gracefully through the air before landing on the ledge of my home-office window. As they accumulated and covered the trees in my backyard all I could think about was how postcard-perfect my view was. I was busy editing a technical manual for a client who always called me with last-minute jobs. They paid handsomely but inevitably caused headaches. In spite of the looming deadline, every few minutes I lifted my eyes from the laptop and surveyed the glorious scene. It wasn't until my wife, Kait, came home from work that I woke up to reality.

"Fletcher, honey, there's almost a foot of snow out there," she said. "And you haven't started shoveling yet."

It was our first snowfall in our first house. Kait and I had married three years earlier, in a summer ceremony at a manor house up in the Muskoka Lakes. While we'd continued to live in my tiny studio apartment in downtown Toronto, we'd sworn to each other we'd save every penny to buy our dream home. And we had, moving into a semi-detached three-bedroom house on the far eastern edge of Danforth Village, a short walk from restaurants, shops, and the subway. We'd been there for two months, painting and re-grouting and enjoying our new space.

One of our friends had given us a sturdy red snow shovel as a housewarming gift. Welcome to the wonderful world of homeownership, he'd told me. You're your own superintendent now.

His words were ringing in my ears as I trudged to the garage out back—we didn't own a car, so that was our storage space—and located the shovel. Kait was right; the snow was piled at least a foot deep.

At the front of the house, I took a deep breath and told myself I needed the workout. I'd canceled my gym membership—part of our belt-tightening scheme to afford a house—and had only started setting up a workout space in the basement. At least shoveling snow promised to be a full-body workout. I pumped myself up so much that I cleared not only our side of the house but the next door neighbour's as well. He was an elderly man named Max Bode, and we had yet to meet him, though we'd caught glimpses of his short, bony frame. We considered ourselves lucky because we had yet to detect any noise from him through the wall that our houses shared.

After I finished and returned the shovel to the garage, I noticed the light was on inside Max Bode's kitchen. Like ours, it was at the back of the house. I figured it was as good a time as any to introduce myself, so I headed up his steps. Our neighbour was sitting at a Formica table, his back turned to me as he hunched over a newspaper. Long strips of white hair were carefully combed over an otherwise bald pate.

I tapped on the glass of the storm door.

"Go ahead, Dick, it's open," he said without turning around.

Vaguely I wondered if Dick was one-half of the elderly couple who'd sold their house to Kait and me. It didn't really matter. "Hello, there. It's Fletcher Lemire," I said, pushing the door open. "Your new neighbour. You're Max Bode, right?"

"In the flesh. And I don't care much for neighbours, new or old." He turned in his seat and glared at me with dark, protruding eyes. Up close, he was younger than I'd thought—maybe only sixty or so—but his skin had an unhealthy pallor not unlike the paste we'd used to hang our new wallpaper. "What do you want?"

"You probably noticed it's snowing," I said, fighting the urge to call him sir. The neighbourhood had impressed me for its friendliness, and I was caught off guard by his brusqueness. "I was shoveling our steps and the sidewalk and figured I'd do your side, too."

"I don't need your help."

"It's already done," I said. "It's all cleared now."

"Bully for you. If you think I'm giving you one red cent for that, you're out of your mind."

"I'm not looking for you to pay me." I was incredulous. "I'm your neighbour."

"Then what do you want?"

I shrugged. "I guess I figured you should know that you don't have to clear the snow."

His lipless mouth tugged back in a tight little smile. "I don't have to do anything. This is my house. I make the rules. If I don't want to do something, I don't."

"That sounds great, until the city gives you a ticket for not clearing your walk."

He chuckled at that. "No one's giving me a ticket. Bye now, Dick."

"It's Fletcher," I said.

His lips grinned a little more broadly, as if I'd made a joke. "Of course it is. Millennials and their stupid names."
Want to read more? Death of a Bad Neighbor is out now in hardcover, paperback, and on Kindle. I hope you'll check it out!