Advance Praise for One Small Sacrifice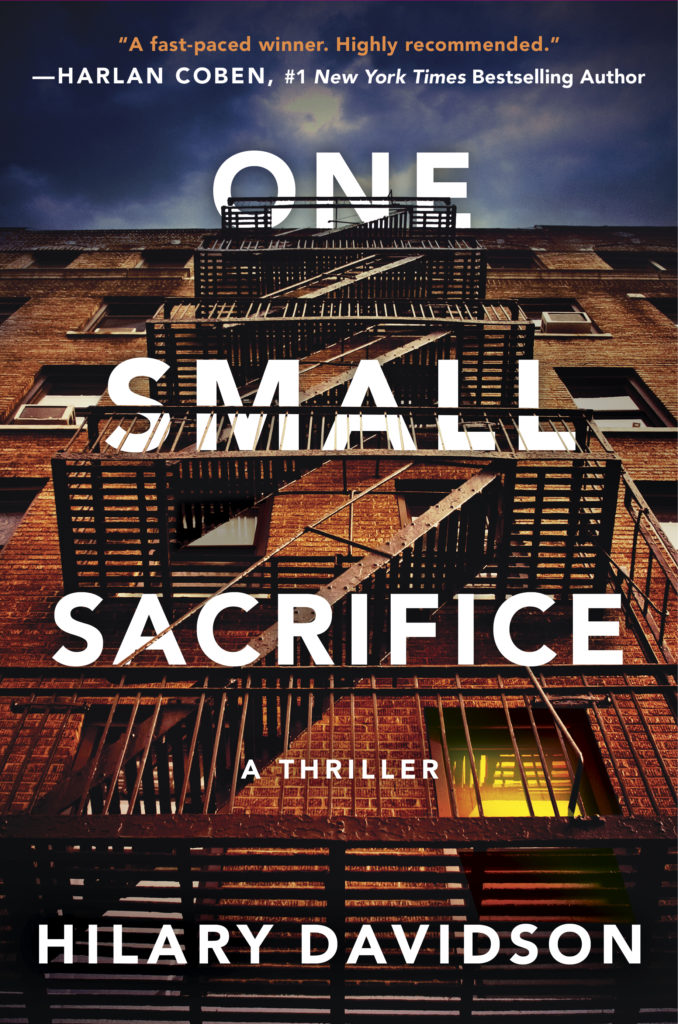 Some people are afraid of snakes. Some fear spiders. For me, there's nothing more terrifying than asking writers I admire to read an advance copy of my book, with an eye to blurbing it it they like it. When ONE SMALL SACRIFICE was in galleys, I decided to swallow that fear and reach out to some of my writing heroes. I assumed that most would be too busy, but to my amazement, all nine superstars who agreed to read the book wrote back with praise. Here's what they had to say:
"One Small Sacrifice is a terrific thriller with a big heart. A smart, compelling examination of guilt, blame, and responsibility that will keep you turning the pages. Hilary Davidson is a rising star of suspense." —Jeff Abbott, New York Times bestselling author of The Three Beths

"Hilary Davidson's One Small Sacrifice is both heart-pounding procedural and a rich, mesmerizing tale of the weight of trauma and the elusive nature of memory. Twisty, absorbing and deeply humane, it's a thriller you won't want to miss." —Megan Abbott, New York Times bestselling author of Give Me Your Hand

"One Small Sacrifice hooked me hard. Hilary Davidson has written a riveting and beautifully layered thriller that satisfies on every level. The characters surprise, the plot twists, and the pages turn themselves." —Lou Berney, Edgar Award–winning author of November Road

"Davidson has crafted a tightly woven mystery. Each thread of the intricate plot draws you toward one surprising revelation after another." —Sandra Brown, #1 New York Times bestselling author of Tailspin

"Davidson's latest novel is her best work yet. One Small Sacrifice is a fast-paced winner. Highly recommended." —Harlan Coben, #1 New York Times bestselling author of Run Away

"I tore through this book! Hilary Davidson is at the top of her game with this masterful and twisty new novel that's jam-packed with suspense. Filled with wonderfully diverse characters, breakneck pacing, and surprises at every turn, this modern mystery will thrill even the most old-school crime fiction lovers. This book satisfied me on so many levels." —Jennifer Hillier, author of Jar of Hearts and Creep

"Hilary Davidson is one of the best crime writers on the planet. This novel is a dazzling work by a master operating at the height of her abilities. Dark, twisty, and psychologically complex, One Small Sacrifice kept me guessing and gasping until the final page. I couldn't put it down, even though I didn't want it to end." —Chris Holm, Anthony Award-winning author of The Killing Kind

"A taut, compelling narrative with a nerve-tingling climax. Davidson turns clichés of the contemporary novel on their heads to create a wholly believable cast of characters. I hope we'll see more of detective Sheryn Sterling." —Sara Paretsky, New York Times bestselling author of Shell Game

"Packed with secrets, lies and suprises, ONE SMALL SACRIFICE kept me guessing to the very end. A gritty kaleidoscope of a thriller." —Riley Sager, New York Times bestselling author of The Last Time I Lied

"Hilary Davidson's ONE SMALL SACRIFICE has it all — a can't-miss protagonist in NYPD detective Sheryn Sterling, mysterious murders caught up in a web of lies, and an unforgettable, pulsating New York backdrop. Unsettling, layered and impossible to ignore, ONE SMALL SACRIFICE shows us Davidson at the top of her game — proving once again that she's one of the most unique, talented voices in modern crime fiction." —Alex Segura, author of Dangerous Ends and Blackout
I can't tell you how grateful I am — it's like winning the lottery, only better. ONE SMALL SACRIFICE will be out on June 1, 2019, from Thomas & Mercer. Pre-order from Amazon and Indiebound.