Where to Find Me at Bouchercon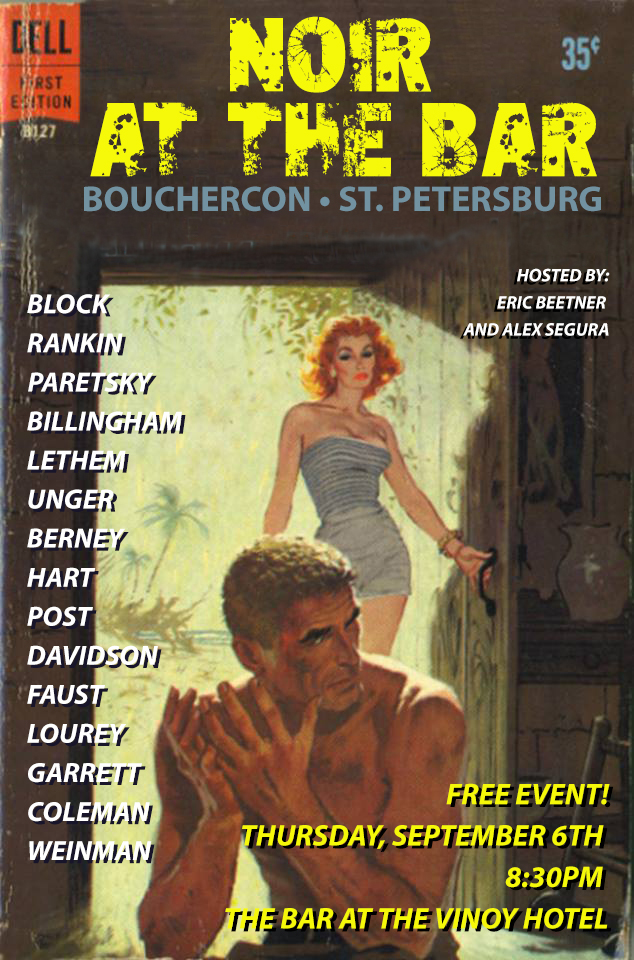 It's the end of August, and Bouchercon is just around the corner. For me, the conference is always a reunion with my tribe. This year's con is going to be a little hectic, because I don't land until Thursday afternoon and I leave Sunday morning. That said, I've got a lot packed into the time I'm there:
Thursday, September 6, 8:30pm: Noir at the Bar: Bouchercon Edition! This is going to be a highlight of the entire conference. Take a look at the poster above, designed by Alex Segura, who's co-hosting with Eric Beetner. That's one helluva lineup. We'll be at the Vinoy bar, which better be stadium-sized.
Friday, September 7, 10:15-10:30am and 11am-11:30am: Thomas & Mercer hospitality suite. Stop by to say hi, grab treats, and pick up some swag. (The odd timing is thanks to another commitment I have, so I'll be popping in and out of the suite.)
Friday, September 7, 12pm-12:45pm: "A Nooner — The Sex Panel." Christa Faust, Heather Graham, Greg Herren, Catriona McPherson, and I talk sex with moderator Helen Smith. If we don't make you blush, nothing will.
Friday, September 7, 1pm-1:45pm: "Anthony Nominated Short Stories." Yes, immediately after the Sex Panel, I'm on another panel, this time with my fellow nominees for Best Short Story: Susanna Calkins, Barb Goffman, Debra Goldstein, and Art Taylor (Art's wife, Tara Laskowski, will moderate).
Saturday, September 8, 7pm: Anthony Awards. I'm up for Best Short Story for "My Side of the Matter" from the KILLING MALMON anthology. Read it for free!
I am incredibly sad that I'm going to miss the signing event for FLORIDA HAPPENS, the Bouchercon Anthology. It's on Thursday starting at 1pm, and my plane lands about half an hour later. Bad timing on my part! Anyone who does want me to sign the book, please stop by one of my other events. I'd love to see you!