Coming Soon: The Night of the Flood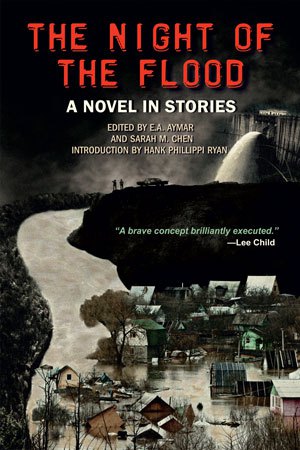 Next Tuesday, March 5th, is launch day for a project that's something entirely new for me. THE NIGHT OF THE FLOOD: A NOVEL IN STORIES is my first collaborative novel. The fourteen writers who took part — E.A. Aymar, Rob Brunet, Sarah M. Chen, Angel Luis Colón, Mark Edwards, Gwen Florio, Elizabeth Heiter, J.J. Hensley, Jennifer Hillier, Shannon Kirk, Jenny Milchman, Alan Orloff, Wendy Tyson, and me — wrote about a town coming apart at the seams. Here's how our publisher, Down & Out Books, describes it:
It happened the night Maggie Wilbourne was to be put to death, the first woman executed by the state of Pennsylvania in modern times. That was when a group of women passionately protesting Maggie's imprisonment struck. They blew up a local dam, flooding the town of Everton and indirectly inspiring a hellish night of crime and chaos.

Fourteen of today's most exciting contemporary crime writers will take you to the fictional town of Everton, with stories from criminals, cops, and civilians that explore the thin line between the rich and the poor, the insider and the outsider, the innocent and the guilty. Whether it's a store owner grimly protecting his property from looters, an opportunistic servant who sees her time to strike, or two misguided youths taking their anger out against any available victim, The Night of the Flood is an intricate and intimate examination of the moment when chaos is released—in both society and the human spirit.
The early reviews have been exciting. Lee Child called the book "A brave concept brilliantly executed." BOLO Books said it was "An impressive collection of stories from some of the most talented writers working in the crime genre today." (BOLO Books made my day by saying this about my story, "The Darkest Hour": "This mini domestic thriller about a mother who will do anything to keep her children safe is a fast-paced and action-oriented story. I am loath to choose a favorite in this collection, but there is not denying that Davidson's story is a real highlight.") For more details, or to order the book, click here.
There will be a couple of events to celebrate the release of THE NIGHT OF THE FLOOD in New York. On Thursday, March 8th, we're having a party at The Mysterious Bookshop (58 Warren Street in Manhattan) starting at 6:30pm, and you're invited. There will also be a reading at Kew & Willow Books (8163 Lefferts Blvd in Queens) on Friday, March 16th; again, all are welcome. If you can make it, I'd love to see you!