Get Your Passport to Murder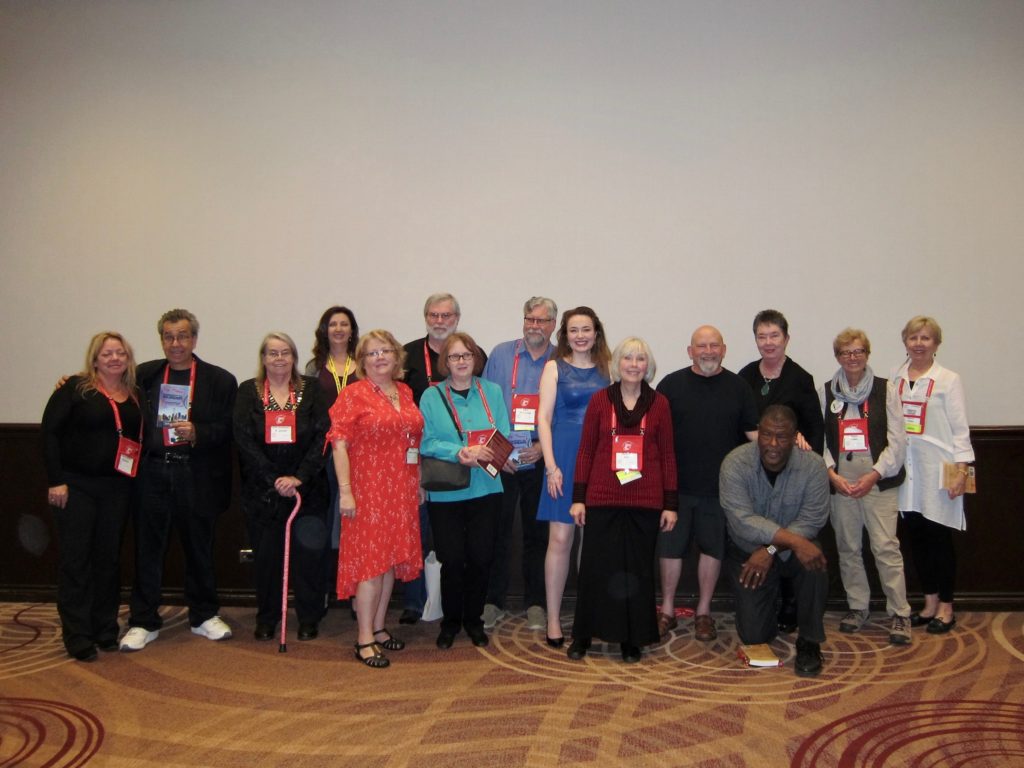 If you attended Bouchercon Toronto, you've already heard about PASSPORT TO MURDER: BOUCHERCON ANTHOLOGY 2017. It's out now from Down & Out Books, and I can honestly say it's one of the best collections I've had the good fortune to be part of. We had a terrific event to celebrate its launch at Bouchercon, with many of the authors in attendance, as well as the collection's editor, John McFetridge. (The photo above was taken there; you'll spot Janet Hutchings, Gary Phillips, Chris Grabenstein, Craig Faustus Buck, Tanis Mallow, Rosemary McCracken and other familiar faces.)
My story, "Jerusalem Syndrome," was inspired by a press trip I took to Israel in 2012, when the issue of whether women should be allowed to pray at the Western Wall was a hotly—and violently—contested issue. (Visit Women of the Wall if you're interested in learning more about this. Spoiler alert: it's still a huge issue.) Here's how "Jerusalem Syndrome" opens:
Suzanne Horne fell in love with Tel Aviv at first sight. She'd dreamed of visiting Israel for years, long before she and her husband joined Pastor Ted's church. The long series of flights—from Houston to Chicago to New York to Tel Aviv—hadn't sapped her energy, or her enthusiasm. From the air, the city glittered like a jewel at the edge of the Mediterranean. Up close, on the bus drive in from the airport, she was just as impressed. Every way she looked, there were palm trees and names that resonated with Biblical weight along with modern skyscrapers and a palpable sense of energy.

"Look to your left," Pastor Ted said as they were getting off the bus beside the hotel. "That's the ancient port city of Jaffa. Four thousand and five hundred years old and still going strong."

"Jaffa! Where Jonah was swallowed by the whale!" called out Minday Serle. She poked her teenage daughter, Mercy, in the shoulder. "Remember that?"

Of course you remember that, Suzanne thought. You've gone on Pastor Ted's Tour of the Holy Land every year! Then she caught Mercy's eye and felt guilty. The girl gave an uncertain nod and her eyes slid to the ground. Minday might be a piece of work, but her daughter was never anything but gentle and shy.

"Exactly, Minday. All right, everyone. Tonight we have dinner and prayer circle," Pastor Ted said.

"Do we have time to take a short walk on the beach?" Suzanne asked. She could already imagine soft sand under her feet while the Mediterranean lapped at her toes.

Pastor Ted's smile remained plastered on his face, but his eyes narrowed. "No, you don't. You just have time to take your luggage up to your room now."

Suzanne wasn't ready to give in. After four years of waiting for a spot to open up on Pastor Ted's annual Tour of the Holy Land, she and her husband, Bobby, had snagged spaces thanks to their work on—and donations to—the presidential campaign. It wasn't that Pastor Ted was a big fan of the candidate—behind the scenes, he referred to the man as a Mormon moron—but certain services were expected if you wanted to rise in that circle. While Bobby thrived in that environment, Suzanne struggled to fit in.

"What time, exactly, is Prayer Circle?" Suzanne asked.

Pastor Ted shot her a look that telegraphed what a patently foolish woman she was. "If you wanted to walk on the beach, Suzanne, you should have gone to California for Christmas." The tone of his voice was soft but there was steel under it.

"With all the sinners bound for hell," Minday added.

"It looks so beautiful…" Suzanne mumbled.

"Of course it's beautiful," Pastor Ted said. "God created it as the Holy Land. It is a blessed patch of earth."

"Why did you have to ask that?" Bobby was beside Suzanne, head down, pulling their wheeled suitcase behind him. "You know how he is. You won't get to set foot in the sand. Maybe none of us will."

"Sorry," Suzanne murmured. "I was just so excited."

"Just don't open your mouth, okay? Because whenever you do, you put your foot in it."

Suzanne's shoulders slumped. She was always putting her foot wrong around the church crowd, especially Pastor Ted.
Publishers Weekly gave PASSPORT TO MURDER a starred review, and it singled out "Jerusalem Syndrome" for praise. I hope you'll pick up the collection. In case you need any added incentive, all proceeds go to the literacy organization Frontier College.