The Lizard's Ardent Uniform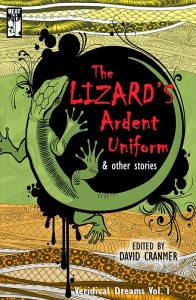 A few months ago, my friend David Cranmer asked me to be part of a special project: an anthology to celebrate the life of his nephew Kyle J. Knapp, who died tragically in a house fire at the age of 23. David's idea was to give each writer involved in the project a sentence from one of Kyle's journals, and to have us spin a story from there. The line I was given was this: "A lonely hitch hiker was walking down the road on a sunny afternoon." That became the foundation for my short story, "The Debt," which is in the just-released collection THE LIZARD'S ARDENT UNIFORM & OTHER STORIES. The talented lineup includes Chris F. Holm, Patti Abbott, Steve Weddle, Terrie Farley Moran, and other terrific writers. The collection is available as an eBook and in print — and the eBook is available for free right now.
David has written movingly about Kyle's life in the past, but his most recent post — telling the story behind THE LIZARD'S ARDENT UNIFORM — is a must-read. To quote a small portion of it:
Only after his death did I find out that, like me, Kyle was a fan of Dr. Who, and in an episode from season three of the new series, when David Tennant, playing the famous time traveler, says, "Some people live more in twenty years than others do in eighty. It's not the time that matters, it's the person," I think of the twenty-three-year-old Kyle Joseph Knapp and the many lives he lived as a poet, naturalist, musician, son, brother, friend, and dream voyager.
I hope you'll enjoy the collection.