Ken Bruen's Purgatory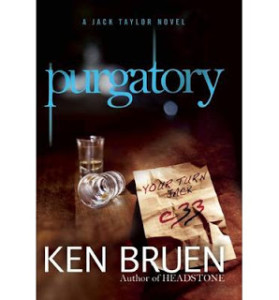 If you've read Ken Bruen, you know that his books are brimming with references to novels and music and poetry and pop culture. I can't tell you how many times I've been inspired to pick up a book or listen to a song because he mentioned it. So it was a huge honor to discover that I'm in his latest novel. Purgatory is Bruen's 10th book featuring former cop Jack Taylor, and if you know Jack, you know he loves to read (between bouts of bloody mayhem, of course). From the book:
I was on a female mystery kick, reading only lady crime writers. My contribution to equality. Had asked Vinny to stack my new bookshelves with them. 

He did.

I skimmed through the authors.

Sara Gran

Zoë Sharp

Margaret Murphy

Wendy Hornsby

Lynn S. Hightower

Megan Abbott

Cornelia Read

Alafair Burke

Hilary Davidson

Jan Burke

And was content.
I'm on Jack Taylor's shelf, in the most amazing company. I still can't believe it, but I couldn't be more honored.
Ken Bruen is an exceptional writer and an amazing person. He's generous and kind, yet writes some of the darkest, leanest prose you'll ever encounter. If you're not reading him yet, you need to start now.