June Update: Award Nominations & Charity Auction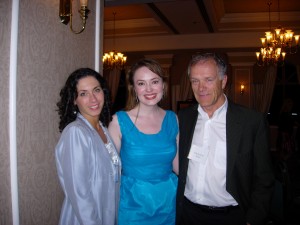 Last Thursday, I flew out to Victoria, B.C., for the Arthur Ellis Awards and the Bloody Words conference. It's been so long since I updated this blog that I haven't even mentioned that THE DAMAGE DONE was nominated for the Arthur Ellis Award for Best First Crime Novel. I didn't win — that honor went to Avner Mandleman for THE DEBBA — but I had a great night and was thrilled to be a finalist. The photo is from the awards dinner, with Chevy Stevens (author of STILL MISSING) and Nick Ruddock (author of THE PARABOLIST), who were also finalists for Best First Novel. My TBR pile just got that much bigger!
Bloody Words drew a small but mighty crowd. I was on a couple of panels (one about first novels and the other about social media), and I got to spend time with some terrific writers I've met briefly in the past (including Robin Spano, Mary Jane Maffini, and Lou Allin) and meet many more, including the amazing Tess Gerritsen. I wish I'd been able to see more of Victoria, but I did learn enough to know that the city has a vibrant restaurant scene (Gluten-Free Guidebook post coming soon).
More award news: THE DAMAGE DONE is also up for an Anthony Award for Best First Novel! The list of finalists in each category is incredibly impressive (I love being in great company), but I'm especially excited to see Chris F. Holm nominated for Best Short Story, and Jen Forbus nominated for Best Website. The Anthony Awards are voted on at Bouchercon, so this news isn't completely belated. (Apparently I'm aiming for a World's Laziest Blogger Award, too.)
Sirens of Suspense is also up for an Anthony Award, and right now I'm involved with the Sirens' charity auction to benefit Detroit Dog Rescue. Have you ever wished that I would name a character in a book after you? Here's your chance: one of the auctions is for a character name in my third novel. Authors Kelli Stanley and Kris Neri are also auctioning character names, publicity maven Dana Kaye is offering a consultation, and there are prize packs of signed books (including THE DAMAGE DONE), and more. All proceeds go to Detroit Dog Rescue. Please spread the word! Bidding closes on Saturday, June 11th, at 8am PDT.