Out Today: Trouble in the Heartland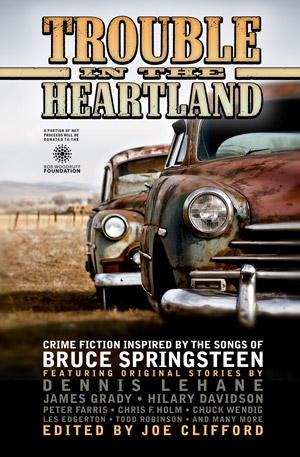 I've been lucky enough to have short stories published in a wide array of anthologies, but I'm especially excited about one that's out today from Gutter Books. TROUBLE IN THE HEARTLAND: CRIME FICTION INSPIRED BY THE SONGS OF BRUCE SPRINGSTEEN is the brainchild of the ferociously talented Joe Clifford. He rounded up a great group of miscreants — including Dennis Lehane, James Grady, Chris F. Holm, Todd Robinson, Steve Weddle, Eric Beetner, and Jordan Harper — and put together an original collection that's as gritty and intense as the music that inspired it. My contribution is "Hungry Heart," named for a Springsteen song released in 1980. The song begins with the line, "Got a wife and kids in Baltimore, Jack / I went out for a ride and I never went back." That got me thinking about the kind of man who'd walk out on his family, and what he might be doing years later.
When you buy a copy of TROUBLE IN THE HEARTLAND, a portion of the proceeds is going to the Bob Woodruff Foundation. Get the book now. And listen to The Boss.