The Damage Done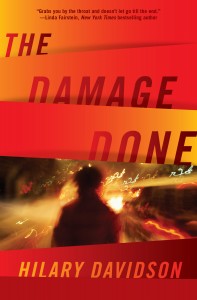 Winner of the 2011 Anthony Award for Best First Novel, and the Crimespree Award for Best First Mystery! Finalist for the Arthur Ellis Award from the Crime Writers of Canada, and the Macavity Award.
"Razor sharp mystery debut… a great portrait of sisterly love, despite a dysfunctional past, as well as a highly satisfying mystery" — Publishers Weekly

Lily Moore, a successful travel writer, fled to Spain to get away from her troubled, drug-addicted younger sister, Claudia. But when Claudia is found dead in a bathtub on the anniversary of their mother's suicide, Lily must return to New York to deal with the aftermath.
The situation shifts from tragic to baffling when the body at the morgue turns out to be a stranger's. The dead woman had been using Claudia's identity for months. The real Claudia had vanished, reappearing briefly on the day her impostor died. As Claudia transforms from victim to suspect in the eyes of the police, Lily becomes determined to find her before they do.
Is Claudia actually missing, or is she playing an elaborate con game? And who's responsible for the body that was found in the bathtub? An obsessive ex-lover? An emotionally disturbed young man with a rich and powerful father? Or Lily's own former fiancé, who turns out to be more deeply involved with Claudia than he admits?
As Lily searches for answers, a shadowy figure stalks her and the danger to her grows. Determined to learn the truth at any cost, she is unprepared for the terrible toll it will take on her and those she loves.
"Grabs you by the throat and doesn't let go" — Linda Fairstein
"A tale of nonstop action with a nice final twist" — Booklist
"Hilary Davidson is one to watch" — Margaret Cannon, Globe & Mail
"A rich, haunting debut" — Megan Abbott
"One of the best debuts I've read in years" — Jon Jordan, Crimespree
"Think Hitchcock writing for the hip Manhattan set" — Ken Bruen
"Exciting, engaging and all around exceptional" — Jen Forbus
"An accomplished work that brilliantly balances the demands of tightly-plotted noir with a compassionate exploration of family secrets and survivor's guilt. A superb debut." — Dennis Tafoya
"Readers will eagerly await Davidson's next book" — Library Journal
"Hilary Davidson's debut is a memorable one" — Ed Gorman
"It may be a crime novel, but The Damage Done is as much about family ties, relationships and the pressure of change. Hopefully it's the first of many from Davidson" — Carolyn Cooke, Surrey Now
"My favorite new voice in crime fiction" — Allison Glasgow Robinson, Thuglit
THE DAMAGE DONE was published by Forge on September 28, 2010 (ISBN 0765326973). Buy the book.