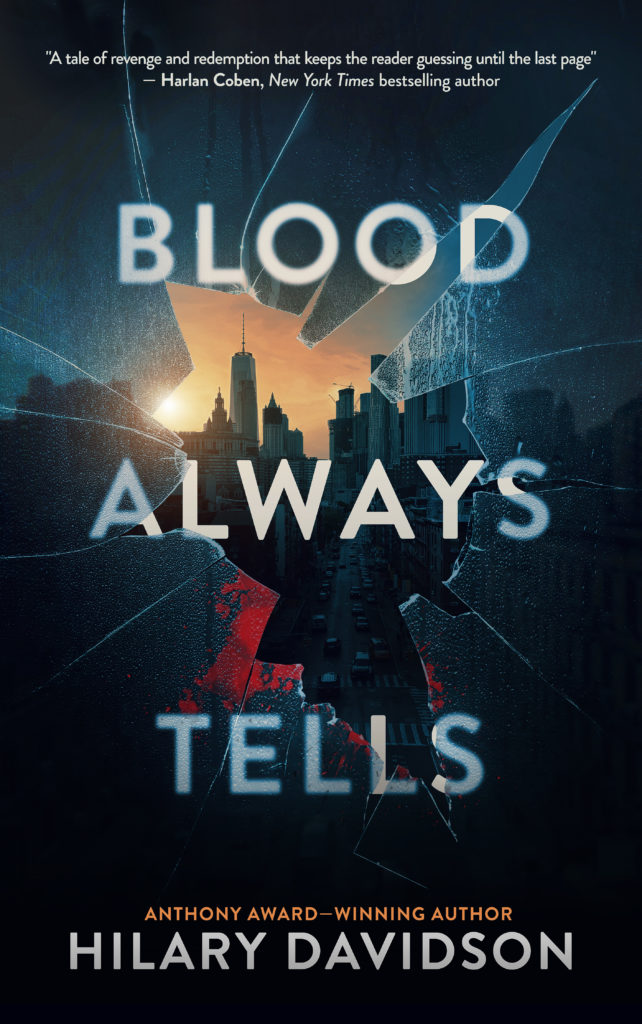 Coming March 30, 2021, everywhere books are sold!
---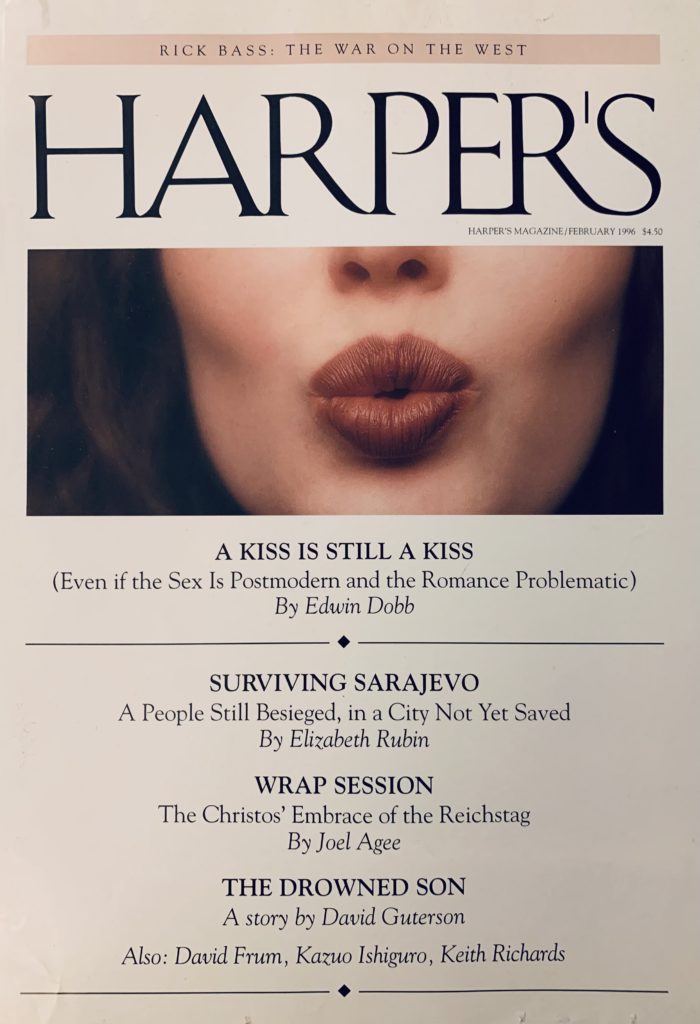 This really snuck up on me: it's the 25th anniversary of my Harper's Magazine cover! 💋
Many of you know that I interned at Harper's but only a few know that I was the cover girl on the February 1996 issue. The photo was taken by the fabulous Penny Gentieu in a shoot that can only be described as impromptu. If you want a laugh, check out the salacious, sexist gossip item New York Magazine wrote about it (posted on my Instagram). At the time, I was shocked that a short piece could get so much wrong. But it did its job, which was to get attention for the cover!
---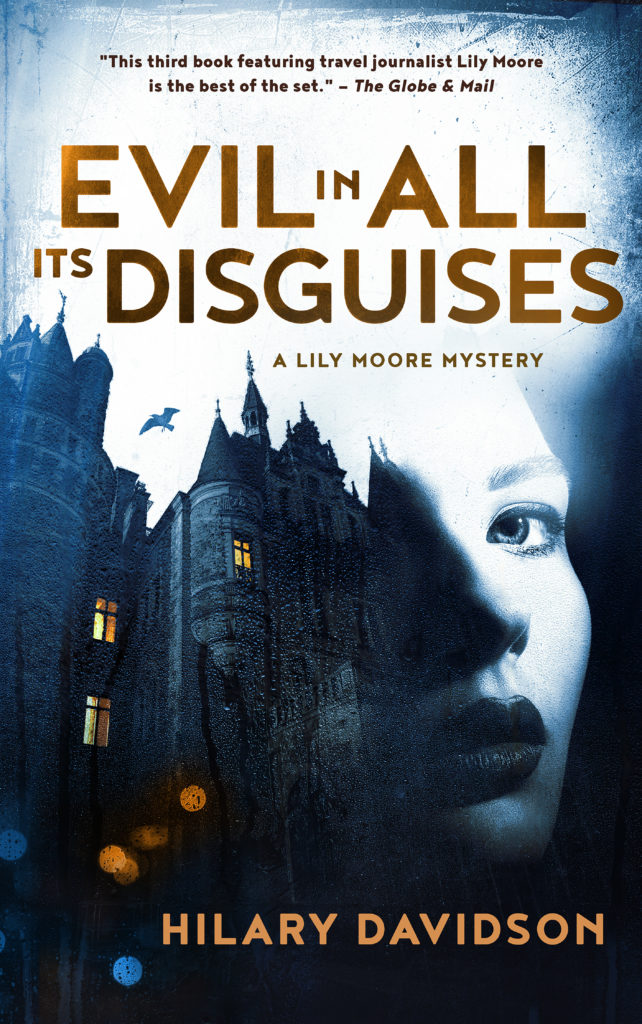 First, a confession: I am bonkers. That's the only possible reason I can give for why I decided, late in the summer, to re-release the three books of the Lily Moore series over three months. Did I feel ready to do it? Not at all, but I jumped in anyway (kind of a familiar theme around here).
The process wasn't easy (I'll probably write about it one of these days — there are so many pitfalls). But I'm thrilled to say that all three novels in the Lily Moore series are back in print! The third installment, Evil in All Its Disguises, made its return today, joining its siblings The Damage Done and The Next One to Fall. Here's the jacket copy:
Anthony Award-winner Hilary Davidson weaves a thrilling story of paranoia, vengeance, and murder.

When travel writer Lily Moore joins a group of journalists for an all-expenses-paid press junket to Acapulco, she expects sun, sand, and margaritas. Instead, she finds that the Mexican city, once the playground of Hollywood stars, is a place of faded glamour and rising crime. Even the luxurious Hotel Cerón, isolated from the rest of the town, seems disturbing to her, with its grand, empty rooms, ever-watchful staff, and armed guards patrolling the grounds.

Lily isn't the only one who suspects something rotten under the hotel's opulent facade. Skye McDermott, another journalist on the trip, asks Lily for help with an article she's working on about fraud and corruption in the hotel industry. Skye claims she's eager to write a piece of real journalism rather than the fluff she's known for. But she also lets slip that she's deeply upset at a lover who jilted her, and she plans to exact her revenge by exposing his company's illegal activities.

After Skye disappears suddenly, Lily suspects her friend is in grave danger. But the hotel's staff insists that everything is fine and refuses to contact the police. Only after Lily tries—and fails—to leave the Hotel Cerón does she discover the truth: the journalists are prisoners in a gilded cage.

Too late, Lily realizes that she has been maneuvered into the role of bait in a vicious, vengeful plot. Faced with unthinkable choices, Lily must summon all her strength to survive, confront the past she's still running from, and save other lives.
Evil in All Its Disguises got some wonderful praise where it was first released by Tor/Forge in 2013:
"Davidson has a great eye for the small detail that leads the reader into the spot and her puzzle plots are beautifully organized and crafted… This third book featuring travel journalist Lily Moore is the best of the set." — The Globe & Mail

"Davidson's book pulses with psychological suspense." — Milwaukee Journal Sentinel

"Hilary Davidson delivers the goods — an exotic, atmospheric setting, a rocket-paced plot, and a bright, engaging heroine in Lily Moore. Evil in All Its Disguises is a top-notch mystery — exciting, harrowing, and smart" — Lisa Unger, New York Times bestselling author
If you'd like to pick up the gorgeous new edition, it's available as an eBook from Apple Books, Kindle, and Kobo. The paperback edition is available from your favorite independent bookstore and from Amazon. I hope you'll enjoy it!
---
---
Have you checked out the Mystery Loves Georgia auction yet? In the past week, a large segment of the mystery community has come together in support of Fair Fight and the Georgia Senate elections on January 5th, donating an incredible array of great items and experiences. I've got three items on offer:
If you're looking for a unique holiday gift, love crime fiction, or simply want to support a good cause, take a look at this auction!  Bidding closes on December 11th at 6pm Pacific.
---
ONE SMALL SACRIFICE was my fifth book, but the first to become a bestseller. If you haven't read it yet, now's your chance: it's a Kindle Daily Deal! Get it today for 99 cents! This book had gotten a lot of love from critics — here are a couple of reviews:
"Fans of Karin Slaughter, Tana French, and Lisa Gardner will devour this new police procedural, which boasts a strong female detective and an intriguing antagonist. Sheryn [Sterling] will draw in readers, and Davidson's complex storytelling will keep them wanting more." — Library Journal (starred review)

"The story line veers between alternate points of view with Traynor and Sterling, and their perspectives on the same information provide different results. Writing the novel in this fashion amps up the suspense while also giving the narrative a complex and compelling flair. In addition, Davidson does an admirable job of making a complicated issue such as PTSD relatable." — Associated Press
I hope you'll enjoy it. Happy reading!
---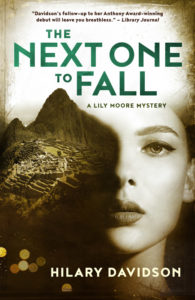 Last month, I rereleased my Anthony Award–winning debut novel, THE DAMAGE DONE, in print and eBook form. That was the book that introduced the intrepid Lily Moore to the world, and I'm thrilled to say that the second installment in the series, THE NEXT ONE TO FALL, is now out in the world, too. Set in Peru, this is the series book that really lets you escape to another destination. (It's so faithful to its setting that the Peruvian tourism board gave the book out at trade shows. Fortunately, they didn't mind me killing a tourist at Machu Picchu!)
Some of the praise THE NEXT ONE TO FALL has received since its first publication by Tor/Forge in 2012:
"Davidson's follow-up to her Anthony Award-winning debut will leave you breathless." — Library Journal

"Lily Moore is one of the most appealing 'amateur' sleuths I've encountered in years. The vivid sense of place — Peru, in this case — is everything one would expect from a seasoned travel journalist like Hilary Davidson, the story is deliciously twisty, the characters engaging. I know I can't be the only reader looking forward to more Moore." — Laura Lippman, New York Times bestselling author

"Davidson's rendering of Machu Picchu and Cusco would merit a pisco sour toast even from the great Jan Morris." — Kirkus Reviews

"Davidson doesn't just tell you of her heroine's sorrow—she gives it substance, form, and volition, taking full advantage of its presence in a way I've not quite seen before. It's effective, unique, and thoroughly compelling." — Criminal Element
The eBook is available now via Amazon, Apple Books, and Kobo.The trade paperback (ISBN 978-0989726351) will be out later this month via Ingram, which means it can be ordered by any bookstore or library. I hope you'll join me in raising a pisco sour to Lily's return! Stay tuned for a virtual event — and for the rerelease of the third book in the series, EVIL IN ALL ITS DISGUISES.
---
---
If you haven't picked up my latest novel yet, you can for a song today. DON'T LOOK DOWN is only $1.99! Here's what Library Journal had to say about the book in a starred review:
"Davidson's wildly intense murder mystery grabs the listener from the beginning and holds on to the very end… The many characters are well written and have complex back stories that enhance the tale. The age-old themes of survival, class, ambition, greed, revenge, love, and deceit all come into play."
This is a one-day deal, so grab it while it's hot!
---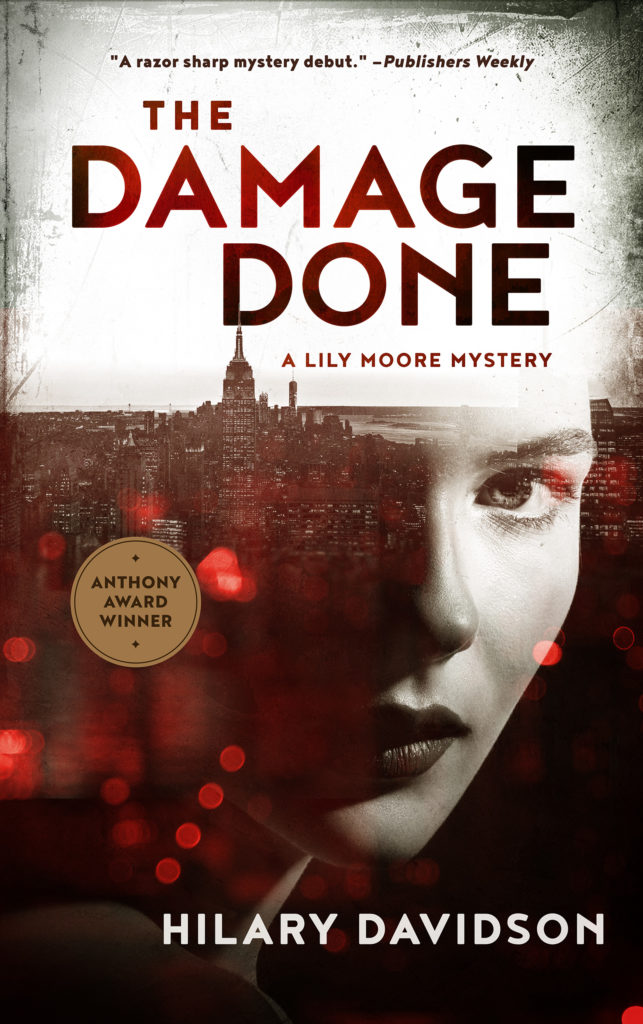 When I decided to re-release my debut novel, THE DAMAGE DONE, I set October 6th as the release date. It didn't seem unrealistic — I had the files, and my cover designer was doing great work. The eBook release happened as I'd planned, with a perfect launch on Apple Books and Kindle. With Kobo and Nook — released via Ingram — it's been a bumpier ride. (Just today, October 29th, Ingram got back to be about an issue I'd raised on October 4th. No resolution to the issue, though. It's a process!)
Getting the paperback out has been even more of a minefield. I opted to print it with Ingram, because gives independent bookstores easy access to it. Unfortunately, there's been nothing easy about the process, even with the files and a great cover in hand. I'm thrilled to announce that, in spite of all the obstacles, THE DAMAGE DONE is back in print in paperback! It's literally available everywhere, and it's a thrill to see it back in the catalog at Houston's Murder by the Book, Denver's Tattered Cover, New York's Kew & Willow, Austin's BookPeople, Pasadena's Vroman's Bookstore, and Scottsdale's Poisoned Pen. If you want to shop local, IndieBound can help. (And yes, the book's on Amazon, too.)
If you pick up a copy and want a signed bookplate for it, just let me know! Email me at hilary@hilarydavidson.com and I'll send that out. Stay tuned for an event to celebrate Lily Moore's tenth anniversary, and her new lease on life.
---